About us
The Cals College Supervisory Board is responsible for two schools: Cals College Nieuwegein and Cals College IJsselstein. The schools are about five kilometres apart and on the periphery of the historic city of Utrecht. Amsterdam is about 40 kilometres away.
Cals College is founded on general Christian values, but open to all faiths. Each school has its own principal who is responsible for the daily management (view organogram).
Pupils at Cals College had a choice of four or more secondary schools in the catchment area, all of which strive to be responsive to the wishes of parents and pupils. At Cals the focus has always been on cultivating an open atmosphere, with good relations between pupils and staff. The cultural and bilingual strengths of the school also have a significant attraction for potential pupils.
Our core values
We design and implement education based on the following core values:
We believe in each other, in each other's capabilities, and in each other's intentions. We have high expectations of each other, and we think and act in terms of opportunities and possibilities. In this way we offer our pupils the opportunity to develop cognitively, creatively, and in their understanding of this world.
We feel a bond with each other. Acknowledging each other and being acknowledged are therefore important to us. We look out for each other. We feel responsible for ourselves and for each other.
We are open to the ways in which other people can be different. This requires tolerance. We do so in dialogue with each other, on the basis of equality.
We seek an atmosphere of openness. We respond to our environment with an open mind, and are open to new ideas and insights. We view the world with wonder, and share this wonder with our pupils.
This is how we create a safe environment for living and for learning.
This is how we give shape to our open Catholic identity.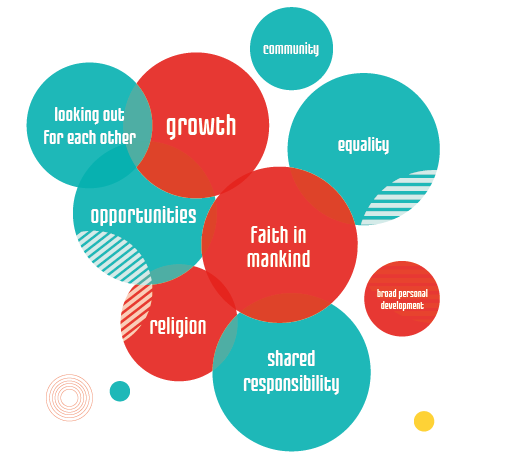 Quality and goals
Cals College is continuously working to improve the quality of its education. We follow the latest developments and make sure that our education continues to connect smoothly to further education and the job market. We devote lots of attention to the compulsory school subjects, but we find that personal development and preparing for the future are indispensable for every pupil.
Besides culture and sports, our education policy also sees internationalisation as an important goal. Accordingly, we organise international internships, exchanges and trips. This gives pupils the opportunity to put their foreign language skills and knowledge into practice. Of course you are more than welcome to visit Cals College to gain a first-hand impression, and to discover how the Dutch education system works.


People guidance
Additional support for pupils and parents
We believe that pupils, parents and the school should always communicate with each other. All pupils have their own (class) tutor. The class tutor has a special responsibility for the overall well-being of the pupils at school and is the first point of contact for parents. Parents can monitor their children's marks and attendance online. For pupils with special needs, we have a care team which includes remedial teachers, confidential advisers and teaching assistants.

Cals College IJsselstein
Cals College IJsselstein is a secondary school in IJsselstein. We are focused on the future and attach much value to connecting, to respect and to personal interaction. We see and treat every pupil as a unique individual. Are you eager to find out who you are and what suits you best? We will help you to discover the answers. We feel that it is important for everything you learn to connect to the world around you so that your education here is meaningful and helps you to prepare for your future.
Theory and practice
At Cals College, we have the knowledge and know-how to offer theory and practice-oriented education at all levels, from basis to Atheneum. This is our particular strength and is what makes us unique. We have four combined transition classes ('brugklas', which is the first class of secondary school) that offer ample opportunities to develop yourself. For practice-oriented education, you will eventually choose between the three education programmes introduced in the 'brugklas'. The way we divide up classes offers you more opportunities and chances.
Clear and friendly
Our teaching methods are clear and friendly. We are friendly towards each other, but also have clear agreements during lessons and outside lessons. The ambiance at school contributes to how we treat one another and is something we all work on together.
We encourage you to focus on everything you are capable of. We look at possibilities and if you feel that something is beyond you, then we can help you to still get there in the end. We are interested in each other and know each other.
Programme offer at Cals College IJsselstein
Cals IJsselstein offers education programmes at the level of atheneum, HAVO, MAVO, kader and basis.
Core values of Cals IJsselstein
We focus on the future and attach much value to connecting, to respect and personal interaction. The ambiance at school contributes to how we treat one another and is something we all work on together. We see and treat every pupil as a unique individual. We feel that it is important for everything you learn to connect to the world around so that it is useful, and so that it helps you to prepare for your future.
Theory and practice at every level
Our strength is to offer theory and practice-oriented education at all levels. We work with heterogenous classes throughout junior secondary school. For practice-oriented education, we offer three learning pathways starting from the first class ('brugklas'). Each year pupils make a choice from these pathways to eventually sit exams in one of these. We believe that having heterogeneous classes and combining theory and practice offers pupils additional opportunities and possibilities. The education programmes regularly connect with businesses located in the school area.
Our learning pathways
Practice-oriented education is offered in three learning pathways that are the same for all levels. Pupils also sit exams for some of the practical subjects. What pupils learn in theory, they also learn to apply in practice. Through this connection between theory and practice, we develop the knowledge and skills that pupils will need in the future.
Pupils start the first year ('brugklas') with an orientation on all learning pathways, so that they become familiar with all the practice-oriented education programmes. After the first class they choose two pathways to continue with, to then drop one of these after the second class so that they can truly concentrate on building their future in secondary school. Pupils also sit exams in the pathway they choose for secondary school.
We offer these three learning pathways:
Technology & Sustainability
People & Health
Society & Enterprise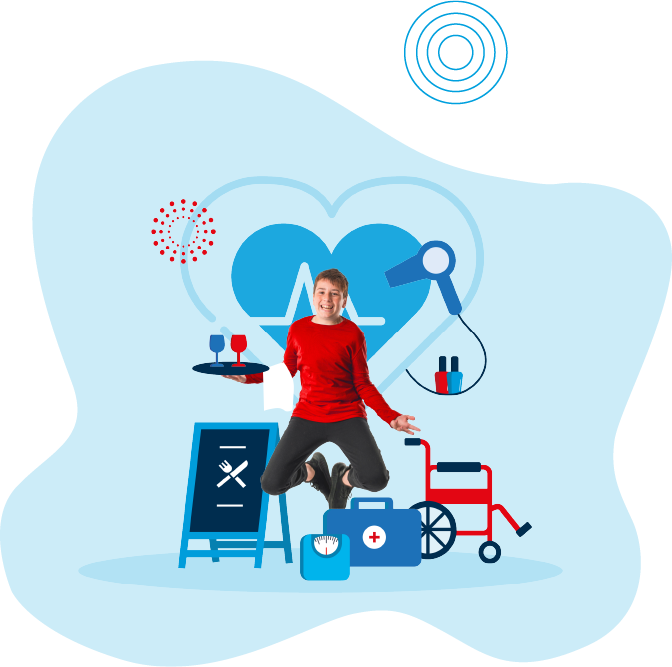 Pathway People & Health
The People & Health pathway is all about human health. You learn about healthy nutrition, healthy exercise, and an overall healthy lifestyle. How can people stay healthy? And what happens when you're no longer healthy or grow older? Who will care for you then?
You will engage with various themes through practical assignments. Themes to explore include:
healthy nutrition
a fit and healthy lifestyle
environment and nature
people and care.
Pathway Society & Enterprise
For the Society & Enterprise pathway, we examine entrepreneurship and how ideas can be developed into a product or service. What does it take to do so? What sort of knowledge does this require? How does society influence entrepreneurship?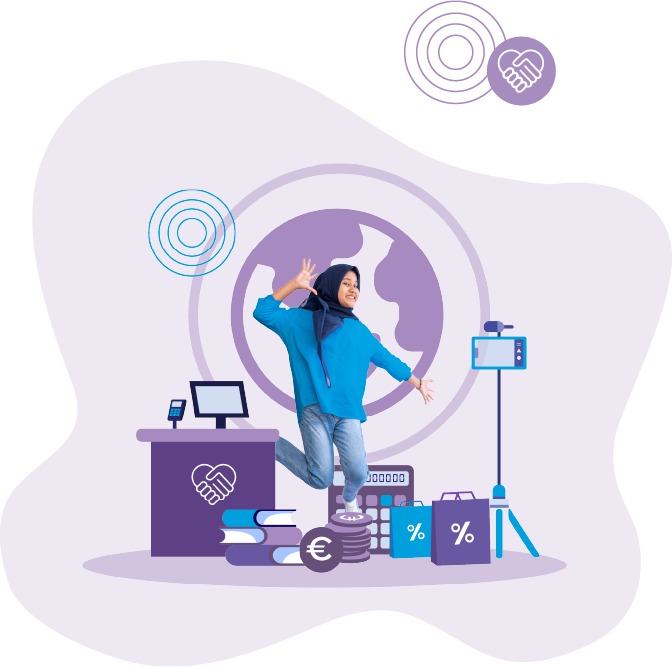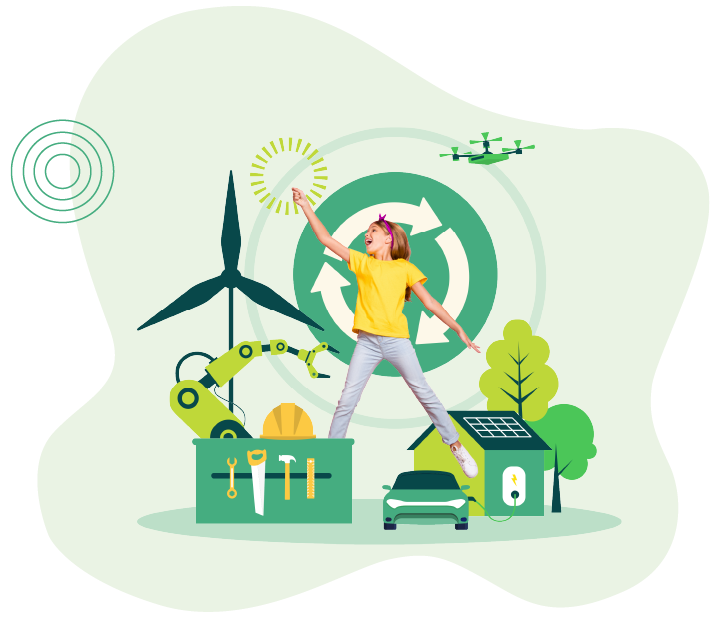 Pathway Technology & Sustainability
The Technology & Sustainability pathway concentrates on the future of technology. You learn how to make and maintain the technology of the future.
Sustainability and sustainable technological solutions are an important part of this learning pathway.
Dutch Education System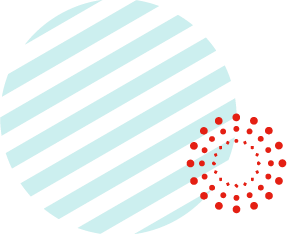 There are approximately 700 secondary schools in the Netherlands, both state and privately run. Secondary education encompasses schools providing pre-university education (VWO (atheneum and gymnasium) 6 years, age 12-18), senior general secondary education (HAVO; 5 years; age 12-17), pre-vocational secondary education (VMBO; 4 years, age 12-16) and Practical Training (PRO; age 12-18). All four types of secondary education are for children aged twelve and up and all begin with a period of general secondary education.

Pupils who are unable to obtain a VMBO qualification, even with long-term extra help, can receive practical training to prepare them for a position on the labour market.

In vocational education, courses of study have been adjusted to better suit the labour market. In light of the ever-growing demand for MBO (upper secondary vocational education) and HBO (higher professional education) graduates, an important goal for the coming years is to encourage students to move on to higher secondary school levels and to prevent students from dropping out.

The supervision of the quality of Dutch education is partly entrusted to the government's national Education Inspection Commission. Dutch schools are financed by the government. They receive a fixed amount of funding each year to be spent on facilities, salaries and further education of staff as they see fit.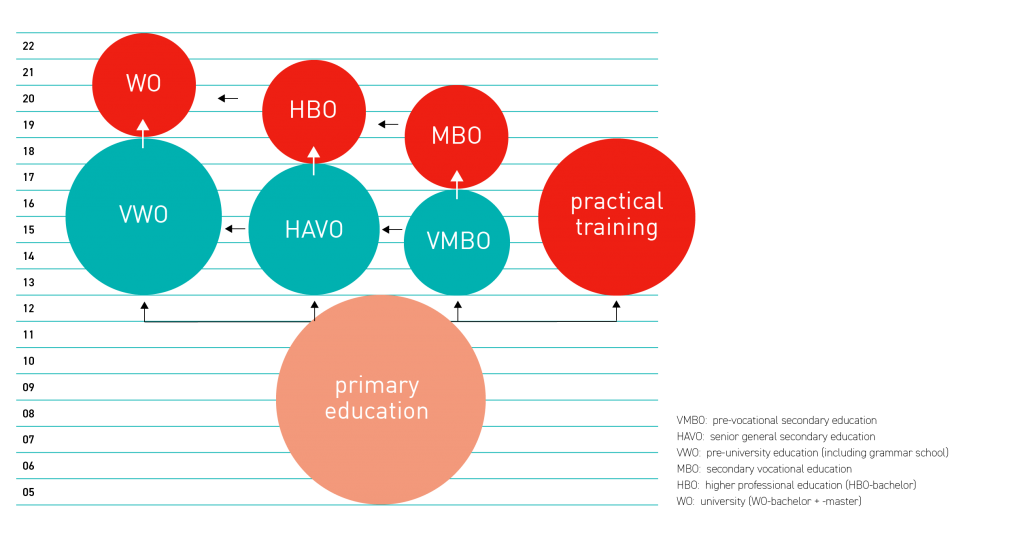 Upper forms specialisations
HAVO and VWO:
Pupils specialise after the third year of their secondary education. They choose one of four pro-files that will prepare them for higher education:
Science and health
Science and technology
Economics and society
Culture and society
Each profile consists of:
Mandatory subjects (regardless of the profile), such as Dutch, Mathematics and English.
Specialist subjects, such as Physics for the science and technology profile.
Electives, which can be chosen from another profile.
VMBO:
The VMBO programme consists of a theoretical and a professional oriented stream. The theoretical pathway is meant for pupils who may wish to join the HAVO programme, or who want to defer their choice of profession since specialisation only takes place in the third year. There are four specialisations:
Economics
Healthcare
Engineering
Agriculture
The professional pathway is a practice-oriented education. After two years, pupils choose one of the following four professional specialisations:
Economy and Enterprise
Care and Well-being
Construction, Domestic living and Interior design
Producing, Installing and Energy
Organogram